Author: Tosha Daugherty
Spring has arrived! It's time to enjoy the outdoors by discovering some wild places and open spaces to explore. Even while practicing social distancing to help prevent the spread of COVID-19, there are still many places available to get outside and enjoy the fresh air. We've already highlighted paved trails for those days that are a bit too wet and muddy for natural trails or those who need stroller or wheelchair friendly options.
Those aren't the only options available for outdoor fun, though. Morgan County has thousands of acres of public forest lands and wide open spaces to enjoy, and we've compiled some of our favorites.
Wildflowers abound in the prairie areas of Burkart Creek Park near Paragon.
Gravel surface trails that traverse prairies, wetlands and forest, combined with a paved loop trail around prairie grasses and creek access make this park a favorite for all ages. Keep an eye out for those wild things here – we've personally had wildlife encounters at Burkhart Creek! Raptor perches, owl houses and bat houses mean you may glimpse a bird of prey on the hunt or a furry friend taking wing at dusk or returning home near dawn. Songbirds are plentiful at this park as well, and we've seen white tail deer and even a slithery snake on occasion as well! (We recommend social distancing from those guys as well.) Located on Duckworth Road near Paragon. *There are no restroom facilities at this park, but there are two picnic shelters available for use.
Park Map
The two mile loop hiking trail at Jimmy Nash Park.
Everyone knows about the playground and the sledding hill at Martinsville's Jimmy Nash Park, but you may not know about the fantastic trail that circles the park! Start by the pond and the two mile loop trail will take you up and around park hill, bringing you out in the perfect location to catch that iconic view over town. Trust us – this trail will make you completely forget you're actually in town! The quarter mile paved loop trail at the park is also a good place to enjoy a walk with a stroller and the interior of the circle is open space, so the kids can run a bit as you keep a watchful eye.
Nash Hiking Trail
Hiking in Morgan-Monroe State Forest
Perhaps the best known wild place in Morgan County, we share this 24,000 acre forest with our neighbors in Monroe County, and it connects to Brown County's Yellowwood State Forest via the Tecumseh Trail (we told you it was big!). You know there are fantastic trails here (one of our favorites is the Low Gap Trail), plus picnic shelters and three lakes if you'd like to do some fishing. The new paved trail is a great addition, and there's also a fun Tree ID trail near the forest office where you can learn a bit more about the individual kinds of trees that make up the forest.
Tree ID Trail Map
Forest Property Map
Hiking Trails Map
This rocky shoal provides direct access to the White River for rock skipping or picnics at Waverly Park.
One of our favorites for the White River Greenway Trail alone, that's not all this park has to offer! Grab some frisbees, a football or soccer ball or a few kites and enjoy the wide open grassy area located north of the trail, historic bank building and traditional arts buildings. There's a crossroads built from stones that marks the historic location of Old Town Waverly's main intersection. Be sure to check out the interpretive signage that explains the history of Waverly, the two mural walls and more to sneak in some educational time. Watch for migratory birds, particularly water birds, song birds and birds of prey (we hear there's an eagle nesting on the opposite side of the river that can sometimes be seen from the trail). You might spot smaller wildlife, or even a white tail deer as well. *Remember the trail may be flooded in places after heavy rains. If water is over the trail, do not continue.
This pedestrian covered bridge is located at Pioneer Park in Mooresville.
We love the trails at Pioneer Park, but it's also a great place enjoy the wide open spaces. Cross the covered pedestrian bridge to access more trails and sports fields, which double as a great place to enjoy outdoor fun with kites, frisbees and more! Once the weather warms up a bit, bring the rain boots for some creek stompin' fun just on the other side of the covered bridge from the parking lot. This park is a bit more urban than some of the others listed here. If you're not quite ready for truly wild places, this is a great park for you!
Park Map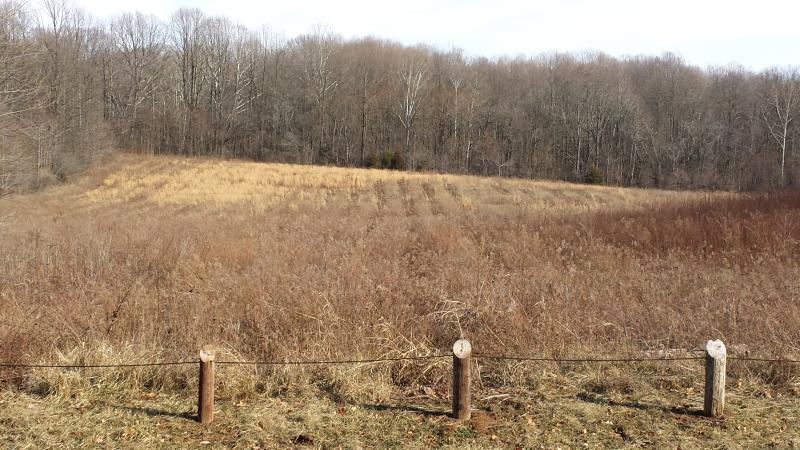 An open area of Ravinia Woods, located just across the road from Burkhart Creek Park.
This one's a bit of a hidden gem… actually considered part of Morgan-Monroe Forest, the Ravinia Wood Unit is not connected to the main forest located just off I-69/State Road 37. No, this area is located adjacent to Burkhart Creek Park off Duckworth Road. Once part of a huge estate, Ravinia Woods is now natural forest land that's open to the public for exploration. The 1,500 acre parcel is perfect for orienteering lessons. Bring a compass, as there are no maintained trails at this property, so you're truly out in the wild! There are fire trails that can be utilized by hikers. This is another great area for spotting forest birds and other wildlife!
Ravinia Woods Map
If You Go:
A few things to remember as you venture out:
Please continue to practice social distancing. Keep a minimum of 6 feet distance between your family and other park visitors.
While trails and open spaces are still considered relatively safe options; playgrounds may not be. Steer clear of play structures or other amenities where people congregate or you aren't sure of sanitization procedures.
Pack a picnic! Depending on how long you'll be out, remember to bring drinks, snacks, or a meal along. (Better yet, many locally owned restaurants are still open for carryout, so if you'd rather pick up your picnic than pack it here are your carryout options.)
Dress for the weather. It's still early spring, so it can be chilly out, or quite warm. Be sure to check the weather forecast before leaving home so you're prepared for the day.
For more information go to: visitmorgancountyin.com.